char·ac·ter
ˈkerəktər/: the mental and moral qualities distinctive to an individual 
synonyms: personality, nature, disposition, temperament, temper, mentality, makeup.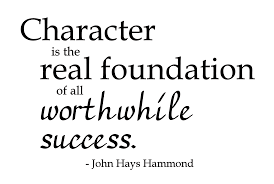 Character Needs to Grow
The right character (mentality) will take you places you never thought you could go. It will open your doors for success, and it will help you build relationships with unique and important people. The right character will keep you in a position of authority and success, even when others seem to come and go. Character growth cannot be neglected.
Some people say that your character is just who you are, what you do and who you are will always remain the same. I beg to differ – character (mentality) can be changed with time, education, and effort. Character is a part of your personality, but it is also your mentality. Ever heard the saying "Change your attitude, change your life?" It's true! When we change the way we think, we are actually shaping our character. In turn, we are ensuring our own success.
Character Breeds Opportunity
People like people who are committed, responsible, motivated, willing to listen and learn, and those who seem to have a good head on their shoulders (even if they make mistakes). The truth is, you don't have to know everything to be successful – those who think they know it all will eventually have a wake-up-call. When people like your personality, your mentality, your disposition, then they like you. People with ambitious and righteous qualities don't always finish first, but they are willing to sacrifice to do things right – the first time!
What we Do Matters
This means that what we choose to indulge in physically, mentally and spiritually is actually a part of who we become. Our eyes are the windows to our soul, and whatever we allow in, will somehow, some way, someday expose itself outwardly. If a good character (mentality) is a critical part of our long-term success, we need to be more focused not just on our talents/skills, but also on who we are, and who we are becoming.
Good Character Wins Every Time
We've all witnessed this. We've seen the athletes or celebrities with millions of dollars who are constantly in trouble with the law, in domestic partnerships disputes, or dead-beats to their children. We've witnessed some of the "most successful people" in the spotlight for their personal failure. Professionalism and personal character are tied together! Whatever is done in the dark will eventually come to light. If you are highly talented, but suck as a person – you will eventually lose your career position, and be left with yourself. If you are highly talented and have a good character, you will continue your wins even when you lose the game, a deal, or make a mistake. Someone who has good character can be respected; while someone without it is hard to respect them.
Get out today, and do something to help you build a better personality, better mentality, and in turn your behaviors will change. You will be one step closer to your success!
Mahaylo!
People lover. Personal training. Striving to leave a mark on the hearts of others; turns out it leaves an irremovable one on my own.